ANOPHELIS
Perfuming spray for natural protection of dogs
Combines deodorizing action with natural protective action
Soft formula, paraben free.
Spray pump with unique design, which allows for continuous diffusion of very fine mist-like droplets, even in an upside-down position for areas difficult to reach.
INSTRUCTION FOR USE: Spray liberally on body area and paws, at a distance of approximately 20 cm, avoiding nose area and eyes. Repeat twice a day or according to needs. WARNINGS: External use only. Not to be used on puppies under 2 months old and on cats. Recommended for all dog's breeds. Do not swallow. Avoid contact with eyes. Product not intended for human consumption. Keep out of reach of children. If swallowed, seek medical advice immediately and show the label.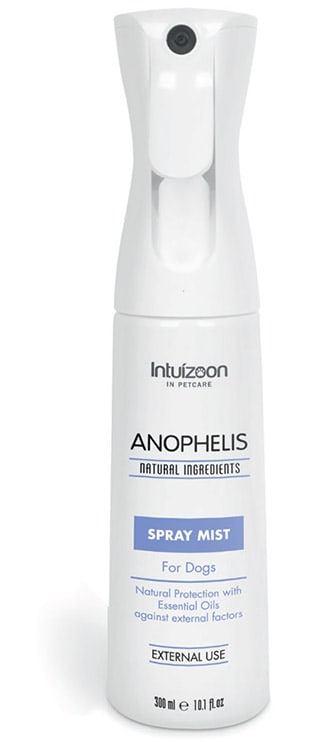 Lemon eucalyptus, cedarwood, cypress and clove essential oils deep cleansing, antioxidant and protective action
Catnip essential oil protective action
Allantoin soothing factor
Inulin hair conditioning agent
Basil and rosemary extracts antioxidant and moisturizing factors