ORALIS
Dental gel for daily oral hygiene of cats and dogs.
Dental gel to help assure your pet's daily oral hygiene. Its formula contains natural ingredients which help avoid the formation of plaque and tartar while maintaining fresh breath.
No need for brushing, as the pet's tongue will help the spreading of the gel.
Ingestion is harmless for the pet.
DIRECTIONS FOR USE: Apply the gel gently, with the help of the cannula included in the box, on teeth and gums. Apply on each side of the mouth: DOGS <10 kg: 1 cm of gel, 10-20 kg: 2 cm of gel, 20-30 kg: 3 cm of gel, >30 kg: 4 cm of gel CATS: 0.5 cm of gel. IN CASE OF ORAL AND DENTAL CONDITIONS: During the first 2 months, apply the gel twice a day, after meals. MAINTENANCE: From the third month onwards, if the oral and dental health have improved, you can apply Oralis Tooth Gel once a day, in the evening, after dinner. DENTAL PROCEDURES: Apply Oralis Tooth Gel twice a day, starting a week before the procedure, and continue applying it for a week after the procedure.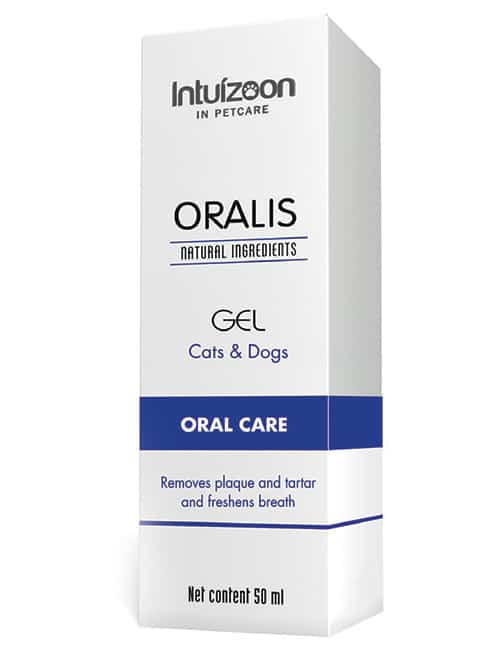 Micronized silver Silver microparticles, whose unique
high surface area and spongy structure
facilitate their long-lasting antimicrobial effect.
Grapefruit seed extract Rich in bioflavonoids and vitamin C,
grapefruit seed extract helps fight
the pathogens that cause tartar and plaque.