OREXIS
Complementary feed for cats and dogs, intended as support for the physiological gastrointestinal functions
OREXIS Syrup
€19.20 (VAT included)
VIEW VIDEO
For cats and dogs.
A unique combination of tonic herbs may help restore a healthy eating pattern.
Recommended in case of temporary appetite loss.
Easy to administer with 1-ml oral syringe included & high palatability (chicken flavor).
FEEDING INSTRUCTIONS:
Dosage 1000mg: Dogs between 10 and 20 kg : 1 tablet per day. Dogs between 20-40 kg- 2-4 tablets per day.

Simply administer the tablets deeply into the mouth cavity. Complete the daily ration with your pet's usual food. Always make sure plenty of freshwaters is available. To be used in accordance with veterinary advice.

Syrup: Administer recommended dose directly into pet's mouth with the aid of the oral syringe provided. Cats and dogs: 1 ml per 5kg of animal weight. Adjust according to weight. Complete the daily ration with the usual food. Always ensure plenty of freshwaters available.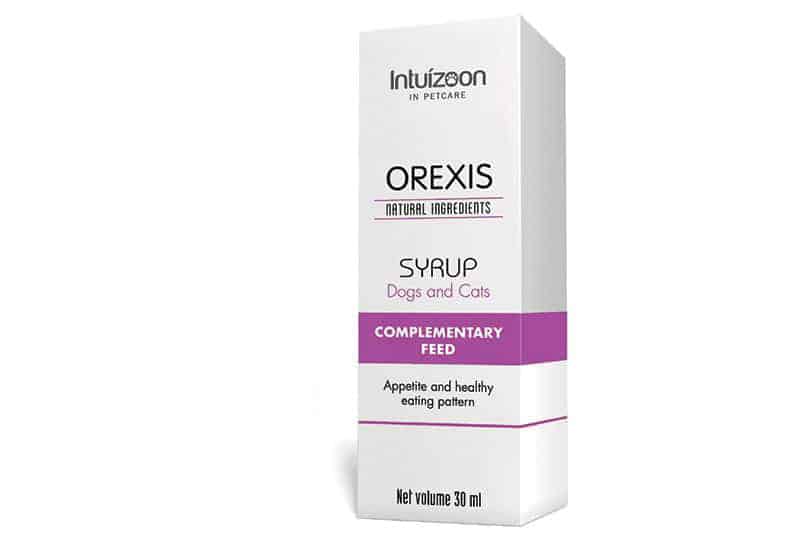 Fennel & Peppermint extracts provides symptomatic relief of digestive disorders
Fenugreek extract indicated in temporary loss of appetite
Gentian extract indicated in mild dyspeptic & gastrointestinal disorders and in temporary loss of appetite
Ginger extract provides symptomatic relief of motion sickness